ZP3 Series Pumps – Fully CIP-able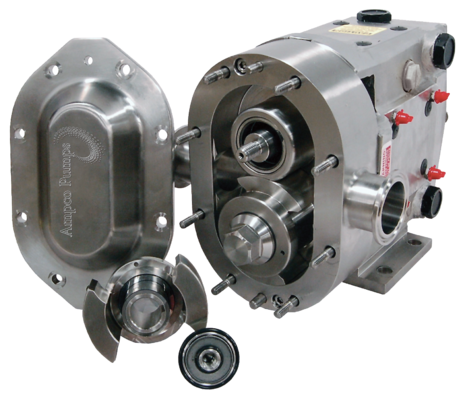 01 December 2016
very new Ampco ZP pump includes these standard features: 304 stainless steel gear case, stainless splash plate protecting the bearing seal face, stainless bearing retainers, 17-4ph shafts, helical gears, 4-way mounting, threaded grease zerks, anti-microbial lube and gasketed stainless steel clean-out plugs.  The ZP3 Series is EHEDG Certified and in conformance with 3A sanitary standards and the ATEX directive.  
Existing ZP2 and competing models can be upgraded to a ZP3 design with new rotors, seals and re-machining the existing rotor case in as little as 2 weeks.  Standard delivery for a new ZP3 pump is 2 weeks.
Need it sooner?  These pumps are ready to ship same day, 14 models available in the ZP1 and ZP3 line-up.
Whether you simply want to replace your existing ZP1 / ZP2 style pump or you prefer to upgrade to Ampco's new ZP3 design with improved CIP-ability and ease of maintenance, Ampco's ZP Series is the smart choice.
ZP3 SERIES ADVANTAGES
"Ampco Pumps Company is excited to introduce our patented front loading seal design for ZP series pumps.  This seal is designed to 3A standards and has passed the stringent EHEDG clean ability requirements.  In addition to being fully "clean in place", the seal can be serviced without the need to remove the rotor body and piping.  Also, the front loading nature of the seal eliminates the "dead zone' in the shaft bore.  Existing ZP2 pumps (and competitors' pumps) can be upgraded to the ZP3 design with new rotors, new seals and re-machining the existing rotor case." explains Bob Garner, Engineering Manager.