Industrial pumps
Electric diaphragm pumps DELLMECO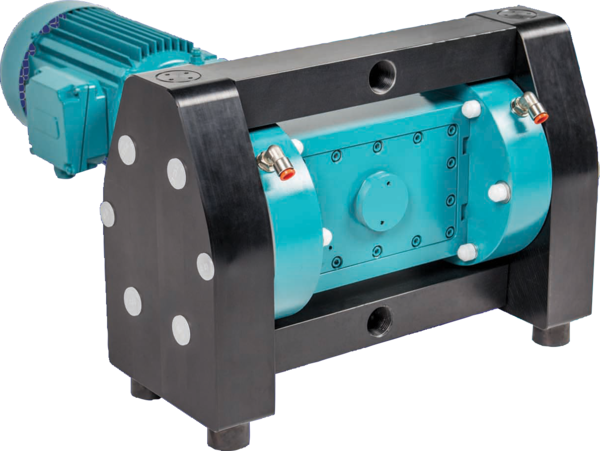 This pump technology is especially designed for many different applications which require low pressure - up to 6 bar.
The DELLMECO DME is an Elecromechanically Driven Double Diaphragm Pump that is highly energy efficient.
Its compact, special design does not require hydraulic fluid, and it can be suitably equipped to provide the performance required by each specific
application.
The DELLMECO Electromechanically Driven Double Diaphragm Pump's design concept and low energy consumption when used, in the most diverse of applications by the most demanding of customers, have helped solidify DELLMECO 's good reputation.
Technical Information
housings machined from PE and PTFE conductive (solids), Aluminium, Cast Iron, AISI 316 (casts), or AISI 316L Hygienic (drawpieces),
temperatures up to 120 °C,
dry-running, low shear, versatile fluid handling capability,
smooth product transfer,
low operating costs through highly efficient electric drive,
low space required,
constant flow rates against variable pressure and viscosity,
withstanding aggressive chemicals,
long-life fully enclosed diaphragms,
abrasion resistance, long life through robust design,
capacity up to 700 l/min.,
optional Variable Frequency Drive flow control for better process performance,
variable flow rate from 0 to 100%,
other optional accesories available.
• Quality tested - in accordance with ISO 9001:2008
• Less energy consumption in refer to traditional diaphragm pumps
• Individual spare parts combinations are available from stock
• Installation and conversion of optional equipment
• Maintenance, preventive maintenance, professional repair, inspection and performance check availability
• Make your DME Pump mobile - available trolley for all sizes (T Option)