Industrial pumps
Metering dosing pumps ECOLAB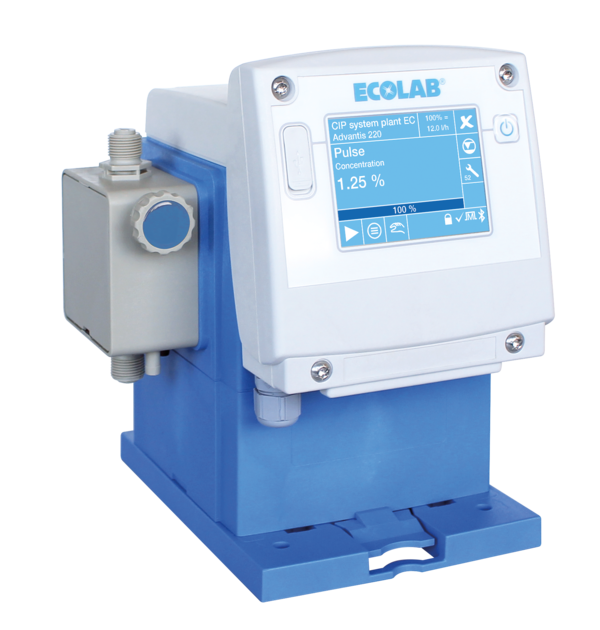 Ecolab Engineering GmbH in Siegsdorf is engaged in the development, production and sales of complete measuring, metering and application systems. Ecolab Engineering offers individual solution concepts for all market-specific requirements in conjunction with Ecolab. Within our corporate and marketing strategy, one central point of focus is systematic coordination of equipment systems and plants with the extensive Ecolab product programme.
EcoPro / EcoAdd
The New Pump Generation
The EcoPro/EcoAdd is a metering pump series with step motor technology. This drive technology provides a variety of advantages:
- Adjustable metering capacity from 1:100
- Constant, almost pulsation-free injection
- Adjustment of the suction lift period for viscous products or difficult suction conditions
- Low-noise operation
The modular structure makes a simple modification of EcoPro to the EcoAdd version possible. The control unit can be turned by 90° with simple methods. This
allows the adjustment to local conditions.
Also the mounting console is for variable use. This makes it suitable for both installations, on a table or on the wall.
EcoAdd also enables a comfortable data exchange through communication interfaces such as USB or optionally Bluetooth.
EcoPro / EcoAdd
Technical Information
Electronically adjustable metering capacity from 1:100
Variable arrangement of control unit and mounting console
Different metering modes adjustable (e.g. for high-viscosity products)
Multicolor touch display (EcoAdd)
USB interface (EcoAdd)
Future-oriented safety and communication tools (EcoAdd)
EcoPro
Keys / settings: on/off, test, viscosity high/low, 1:100
LEDs: operation, viscosity high/low, alarm
Inputs: release

EcoAdd
Keys / settings: on/off, 4 viscosity modes, 5 operating modes, 1:100
Display: touch display
Operation mode: manual, pulse, current, timer, charge
Inputs: release, pulse, current, charge, level, flow, diaphragm break
Outputs: stroke signal, alarm
Communication: USB, CAN Bus
Option: Bluetooth extension module